Austin, Texas: Day 2
My second day in Austin was the most laid-back of any of my stops yet. Â We didn't have anywhere to be and only a vague idea of what we wanted to accomplish.
Nicole decided to take me to the local lake, Lake Travis.
On the way, we passed the IRS building that was hit by a kamikaze pilot a couple of months ago: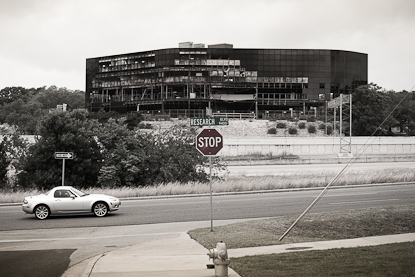 We got to the lake around 10:30, but the restaurant didn't open for another hour. The lake was gorgeous though.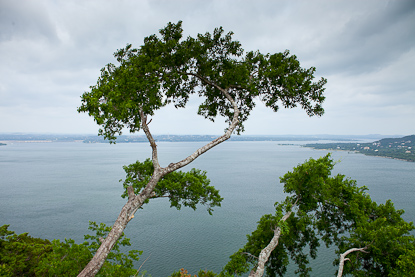 We decided to go to this restaurant instead. Â I told Nicole to show off her favorite restaurants, and everywhere we ate was awesome, but a sign like this really seals the deal: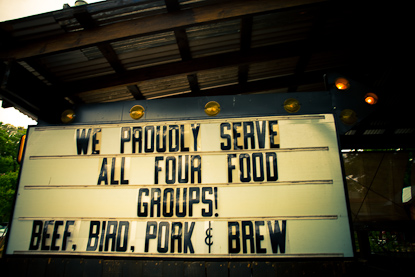 This place makes their own microbrews, so we did the sampler tasting. Â I commented that it reminded me of a menorah. Â A beer menorah. Â It needs two more beers though, and maybe a pint in the middle. Â I think somebody should open a restaurant that does that around Chanukkah. Â I'll bet it would fly in Brooklyn.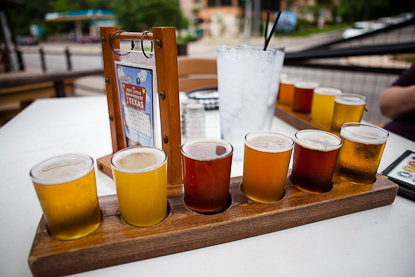 Here's Nicole awkwardly wondering why I'm taking a photo: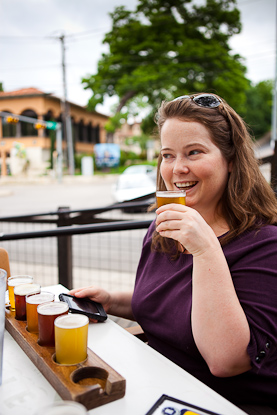 After a lunch of Texas Barbecue, Nicole brought me to the Barton Springs Pool. Apparently a group of vandals had caused a sewage spill somewhere up the creek, so nobody got to paddle up shit creek that day.  (sorry about my horrible puns).
We amused ourselves with the bronze statues: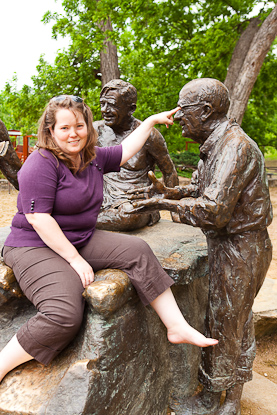 We're real mature.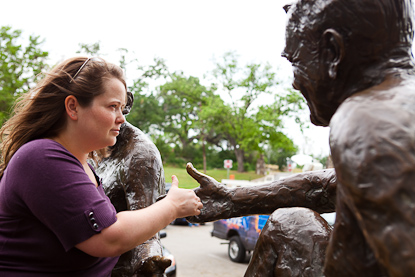 One! Two! Three! Four! Â I declare a thumb war!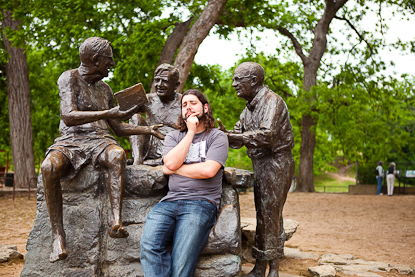 And of course, the obligatory picture of me. Â My double-standards go unenforced.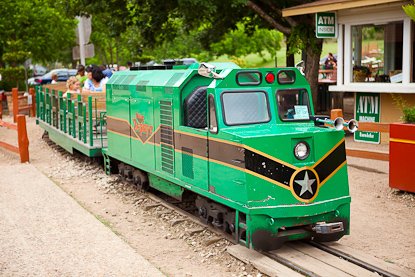 We found a train that ran through the park. Â Nicole wondered aloud if it ran on time.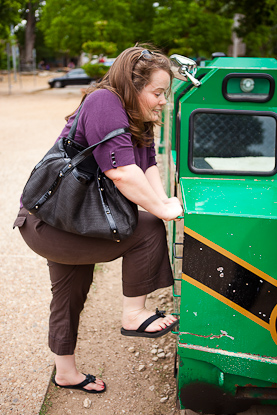 Here she is climbing it. Â This should give you an idea of the scale. Â Neither of us are very tall.
Here it is running on time.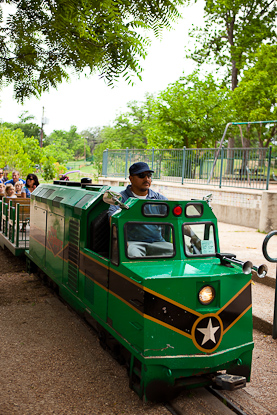 I speculated that maybe this is like boot-camp for Amtrak engineers. Â If you can deal with a bunch of screaming kids and a locomotive cab where your head sticks out above the non-existant roof, you can deal with obnoxious Amtrak passengers like me.
At this point, we realized that our well-orchestrated plan of drinking beer all day was falling apart because we had stopped drinking.
A quick trip to Whole Foods fixed that. Â Whole Foods originated in Austin, so this didn't interfere with my stated goal of only doing local things. Â They have a "make your own six pack" deal, so Nicole picked some more local microbrews to try, and we went off to play minigolf at a put-put place near the Amtrak station.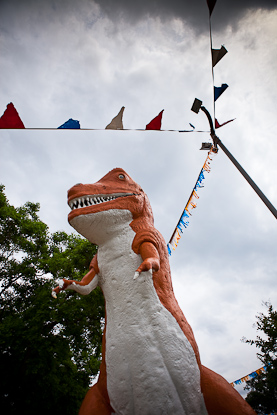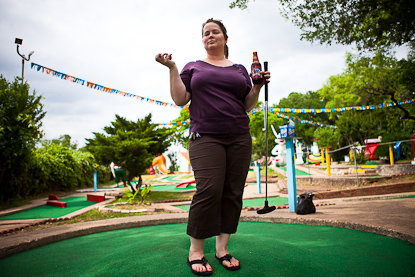 Club, check. Â Brightly-colored balls, check. Â Local beer, check: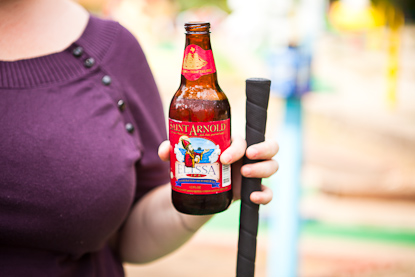 These are the rules. Â You MUST have a beer in one hand at ALL times: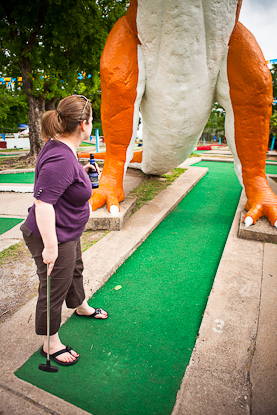 This actually makes it rather difficult to play, as you can't hold the club with two hands. Â Nonetheless, it was clearly more fun, and I got to gloat about a couple of hole-in-ones.
As you can see, our maturity level was clearly sinking again: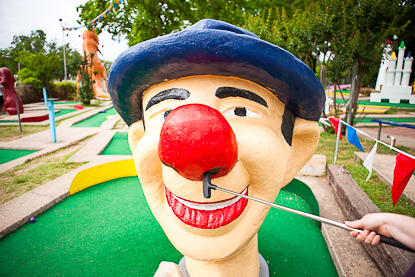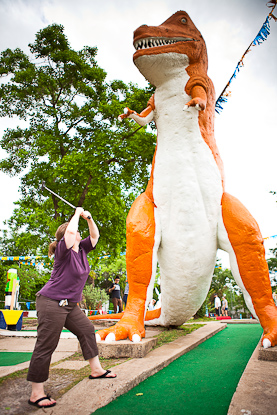 I won:
After golf, we got some ice cream and headed to the station. Â Just as we got there, the weather finally started to get nice.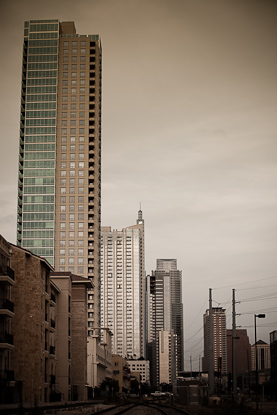 But, at that point it was time to say goodbye to Austin. Â I took one last shot of the skyline from the Amtrak station: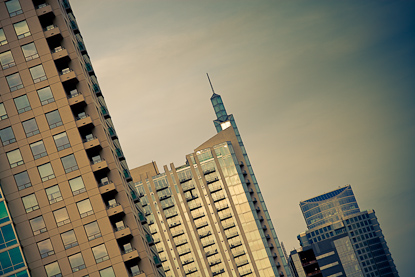 And my train arrived exactly on time.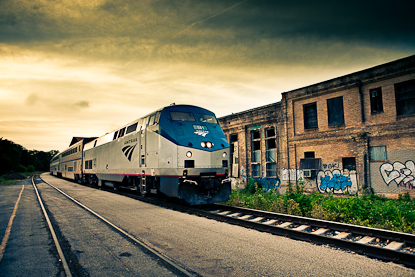 After I boarded, Nicole left and sped over to a pedestrian bridge over the Colorado river just in time to take a picture of the train crossing the bridge in front of the skyline.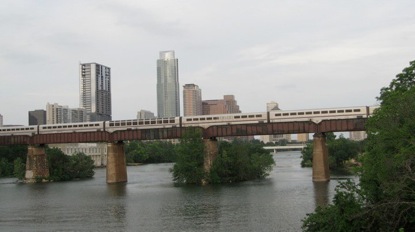 You can't see me, but I'm sitting in the far-right window in the observation car, waving at the camera.