Day One: Coast Starlight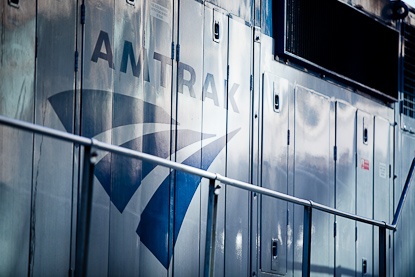 Since I set up this blog this morning, I'm already at the end of Day 2 of my trip. Â Which means I'm two days behind on this blog. Â My goal is to never be a day behind and, not only update this blog at least once a day, but write posts when the events of the day are still fresh in my mind and before I forget important details.
So, this is what happened yesterday.
I woke up really early in the morning, did a last check of everything I brought with me (as it will be the only stuff I'll have with me for a month), and got in the car. Â Liz dropped me off at the BART station on the way to work, and I got on the first train of the trip. Â (although I'm undecided if I'll be counting local light rail and subway trains toward the total number of trains I'll be on this trip as it'll significantly inflate the numbers).
Jack London Square is the major rail station in the Bay Area (there are others, but all Amtrak and most commuter trains go through Jack London), but yet the BART station is actually about a quarter of a mile away. Â This was the moment I realized I should have packed a little lighter. Â I only have a backpack and a suitcase with 9 days worth of clothes (meaning I'll have to do laundry two or three times), and in some cases there are things that I'll eventually need that just didn't fit. Â (A pillow comes to mind). I decided to take a bus. Â The bus didn't take me all the way. Â At this point I realized I was going to be lugging this thing around for a month.
After all that, I still arrived early. Â After picking up my 30-day pass and my tickets, I amused myself with taking photos of the seats: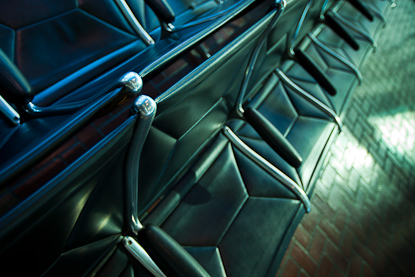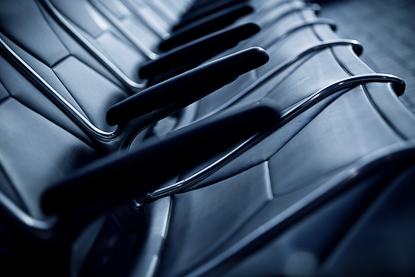 Then I went outside and climbed up onto the bridge over the tracks. Â I was up there for barely a minute when I saw my train coming: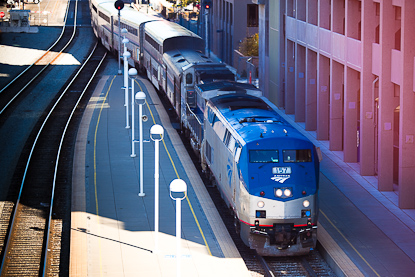 The train didn't leave right away, because they needed to attach another lounge car to the end, which was "dead heading" to be used later on another train.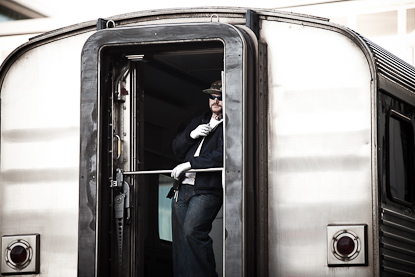 At first I thought that was pretty cool, but then I realized that since this car was closed to the public, I wouldn't be able to shoot out of the back window of the train. Â Which was a little disappointing, but then again I have 12 more trains to shoot out of the back window of.
I settled in, and we started towards San Jose. Â On the way, we passed through the abandoned ghost town of Drawbridge, California, which is slowly sinking into the San Francisco Bay. Â Drawbridge is a town I've been wanting to explore for a long time now, but I haven't done it yet. Â The only way to get there is to walk along the active train tracks, but I was excited when I realized that these were the tracks the Coast Starliner uses. Â We passed it entirely too quickly, but this marks the first "visit" to a town I've been meaning to see in a long time. Â Although in the same vein of the subways, I'm going to have to decide on how to categorize towns I merely pass through.
I managed to get one decent picture: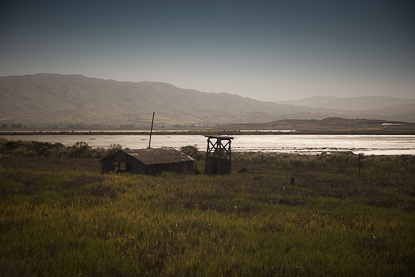 Here's another picture I shot from the train window somewhere an hour or so south of San Jose: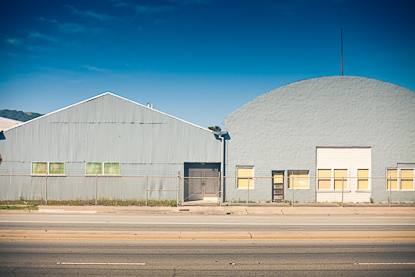 When I was planning this trip, I had envisioned long blocks of time where I could just sit around and get work done. Â Then I realized how social a train can be. Â On airplane flights sometimes I'll chat with people in my row, but somehow a train is a far friendlier environment for conversation.
This is Pat: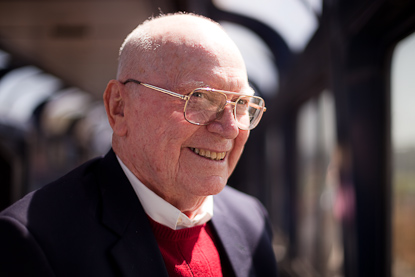 Pat and his wife were heading to Santa Barbara to visit their daughter and her kids for mother's day. Â Pat is retired, but has formal training in architecture and worked as an urban planner for land developers. Â Urban planning is something that I've been fascinated with since I first played Sim City, but a good friend of mine and former roommate, Charlie, is about to graduate with a major in urban planning, so in the last few years I've learned quite a bit about it through him. Â Pat has spent the last five years persuading the city council of Walnut Creek to pedestrianize the downtown core, and seems to hold much different opinions about the way cities should be planned than he did when he was helping to build sprawl. Pat and his wife invited me to join them for lunch, and insisted on treating me for some reason, which was extremely nice of them. Â If you're reading this, thank you again.
Here are Pat and his wife enjoying a moment in the lounge car: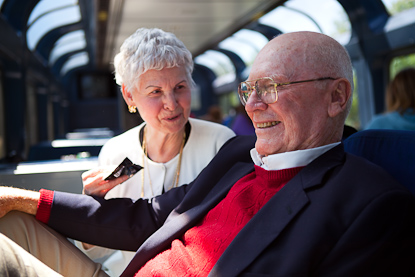 I hope to meet them again back in the bay area.
We stopped in Salinas for 20 minutes to drop off and pick up passengers. Â It's a lovely old station: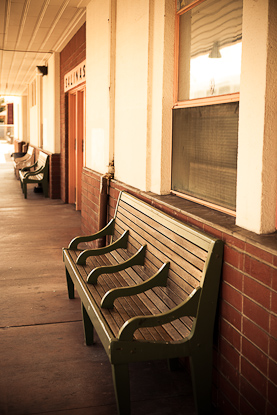 I also took photos of this interesting abandoned building along the trackway, a building from a different era: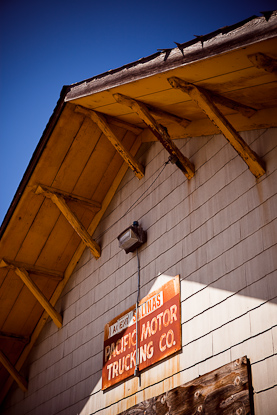 On the way to San Luis Obispo, the train went around a pretty amazing loop. Â This is a bridge we'll go over in a few minutes: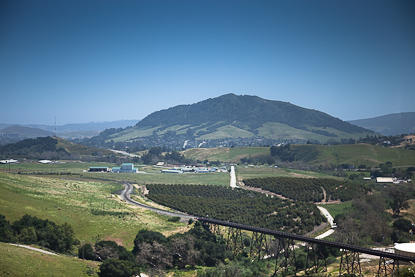 And here's the front of the train, from the back of the train, which you don't get to see very often: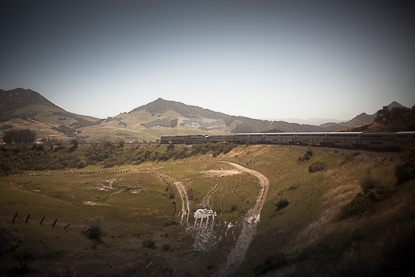 We stopped in San Luis Obispo for about 45 minutes. Â Apparently this train was running AHEAD of schedule, so we had to wait for the schedule to catch up. Â  Â I wandered around a bit.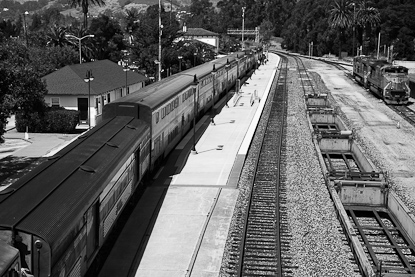 A passenger wouldn't let me take her picture, but instead insisted on taking a picture of me. Â Fully aware of the double-standard, I obliged. Â I don't really like photos of me. Â This might be the last time I'm this clean-cut, although I haven't ruled out getting a haircut on the trip. Â I badly need a haircut: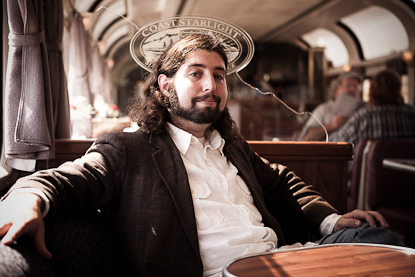 As we rolled through Ventura, the sun set, and I put my camera away as the train rolled through the dark into Los Angeles.