St. Claude and the Lower Ninth Ward
I started my walk a little bit north of the Marigny district and started walking east, through parts of New Orleans that are still recovering from Hurricane Katrina five years later.
It's so hot and humid that most people hang out on the street. Â Everywhere I walked people were sitting on their porch, or, if they didn't have one, their front steps: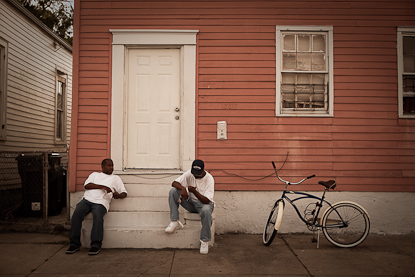 Many houses still have spraypaint markings from the Katrina search-and-rescue. This one had some additions spraypainted on to liven the bleak mood: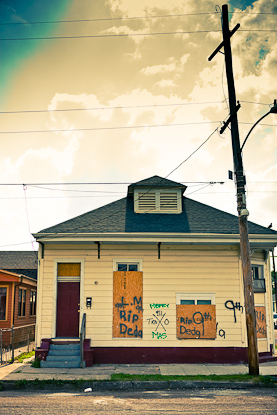 This kid had the biggest grin I think I've EVER seen.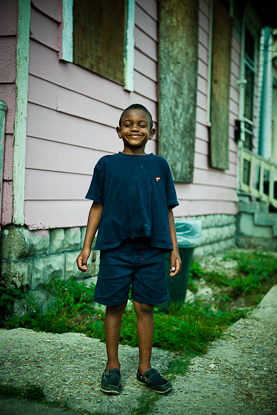 Some of these houses are beautiful, but generally are waiting to be leveled by the city: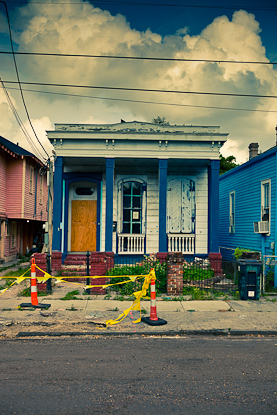 This building is either being refurbished, or is about to be flattened. Â I couldn't tell.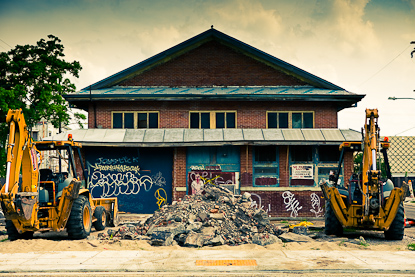 Here's detail of some of an interesting piece of illegal street art that appeared on the back door: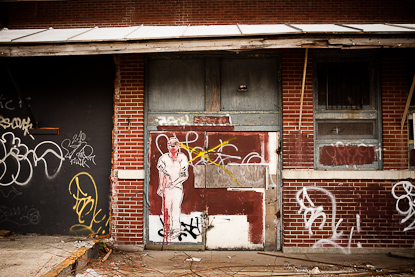 One of the locals I talked to for a minute after shooting the above building: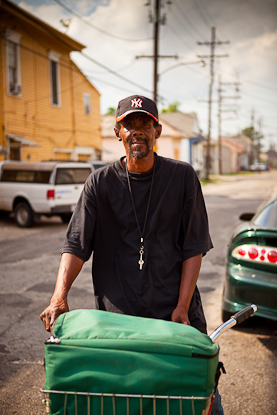 This young man was very suspicious of my taking pictures of houses in his neighborhood. Â I talked to him for a few minutes, but he and his friends wouldn't let me photograph them. Â He did show off his belt, and when I asked if I could take a picture of that, he agreed: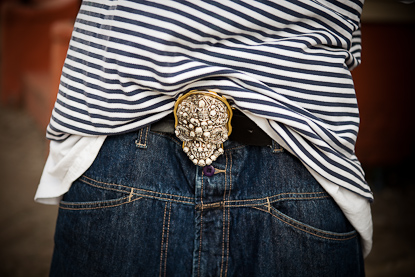 More graffiti on abandoned walls in an industrial corridor: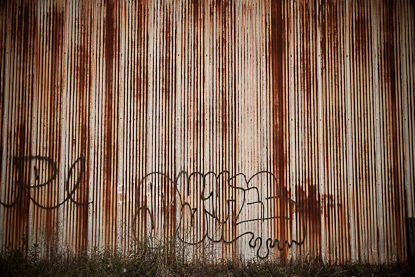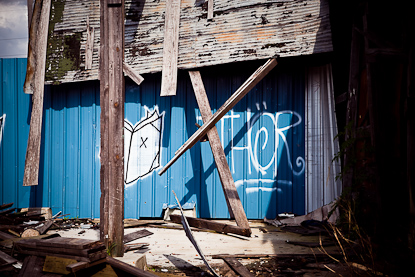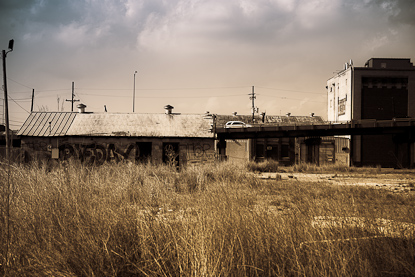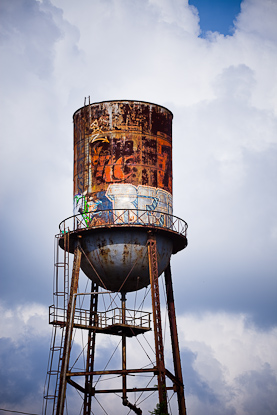 This was on an abandoned rail car: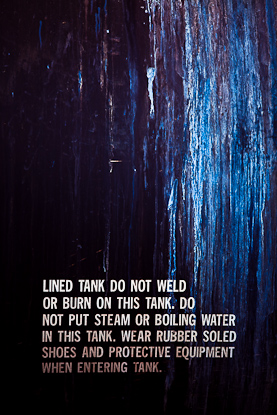 I thought it was interesting how this billboard takes up the entire roof footprint of this house. Â I'm not sure if the house was occupied or not, but you have to wonder how that house supports the billboard.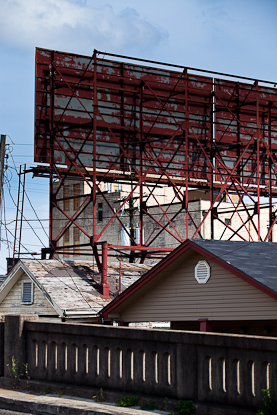 I thought these warehouse roofs looked interesting: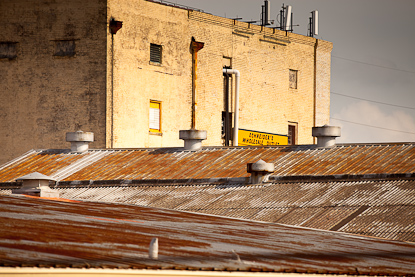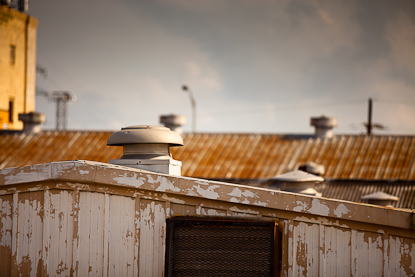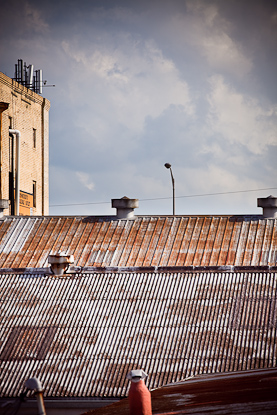 These truck cabs were parked in a yard. Â I'm not sure if they were there before Katrina or not, but the way they're packed in there, I'm not sure they're going anywhere. Â They look like they've been there for awhile.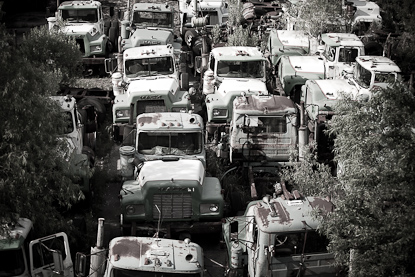 Shot of the railyard from the viaduct bridge: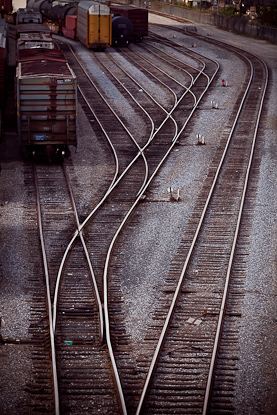 A lot of houses are being flattened, ostensibly because they're completely beyond repair and the real estate is worth more empty. Â This house must have been on a concrete slab. Â These slabs are like giant potholes in the surface of the neighborhood.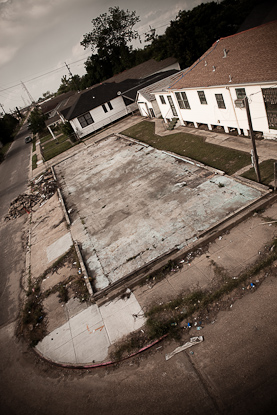 Every other house seemed boarded up. Â Some of the houses looked really nice, but there is no way to know what they look like inside.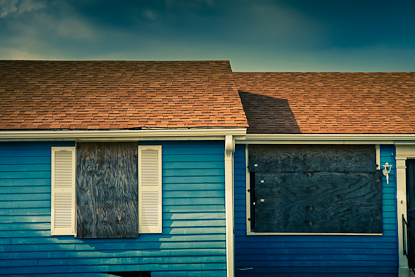 All of the residents I talked to seemed like they were in good spirits. Â This man's face says it all: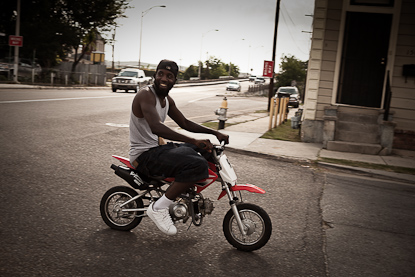 Standing on a corner for a minute, waiting for Josh, this woman walked up to me and asked me if I'd take her picture: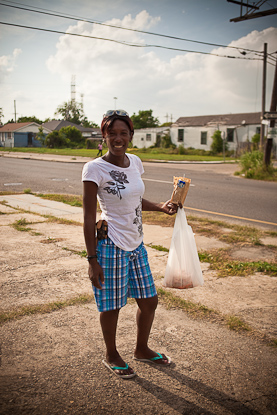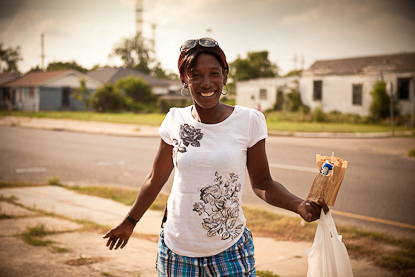 I'm not sure where she was going, but she was drinking a beer and had tons of energy.
After I met Josh, we wandered over to this bridge. Â It looks like it survived the hurricane just fine, but nonetheless it's closed completely. Â Most of the mechanical cables that help it go up and down are completely severed, and swing freely in the wind. Â I'm not sure if it was damaged in the hurricane or not, but it doesn't look like anybody is in a hurry to fix it.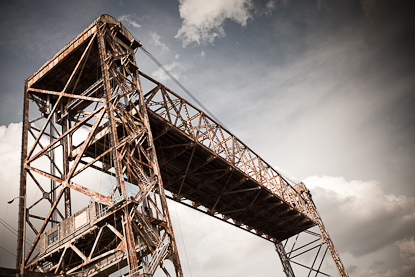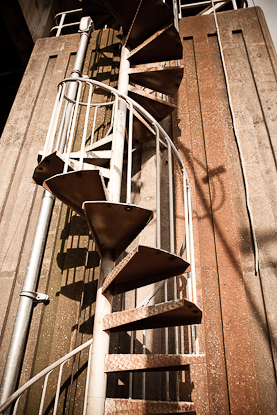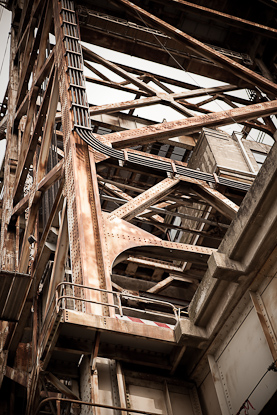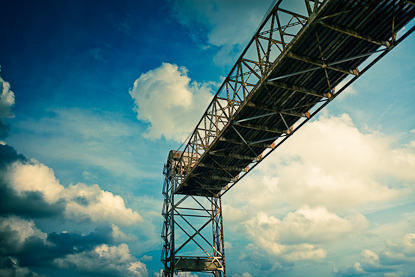 We wandered across a railyard on the way back from the bridge: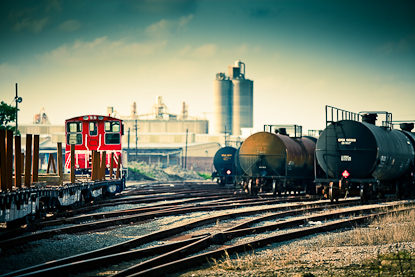 Near the bridge, this abandoned warehouse is being completely reclaimed by nature. Â Similar buildings are so covered in vines that they just look like building-shaped vine cubes.