24 Hours in South Central
One of my goals on this trip is to always do something different. Â More than half of the cities I'm visiting, I've never been to before, so in many cases, that will be a pretty easy goal.
However, my first stop was Los Angeles. Â LA is a city I've spent a lot of time in. Â I've only lived in San Francisco for a little over a year, but before that, I'd never lived anywhere else other than LA.
Specifically, the west side of LA. Â Of the 25 years I spent in LA, 24 of them were in Santa Monica. Â I lived in the valley for a few months, and I lived in Mar Vista for a year (which is a laughable mention since it's a mile from Santa Monica), but rarely have I ever escaped my little beach bubble. Â Even when I go back to LA, which I've done eight or nine times since moving to San Francisco, I pretty much always stay west of the 405.
This trip, I set out to do something entirely different.
I spent my time in South Central.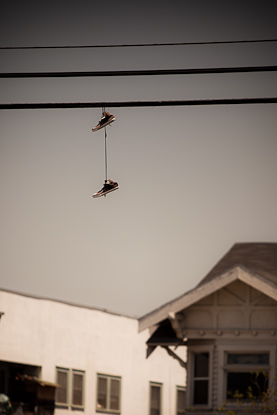 South Central has a bit of a reputation. Â Even if you've never been to LA, you've heard of South Central LA, or the crips, or the bloods, or Rodney King, or the LA riots.
But South Central is a real place, with real people, and it's history and people are intertwined with the history and culture of Los Angeles.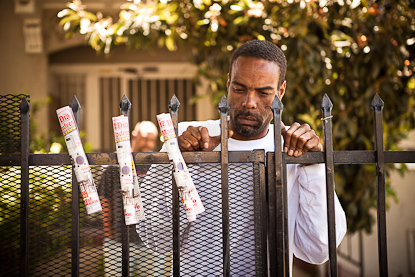 Yet I don't think I've spent more than a few hours there in my entire life. Â Combined. Â That includes driving through, and I'm counting time spent on the 110 freeway (which cuts through) in this cumulative sum, and anybody who has driven in LA knows how quickly those traffic hours can add up.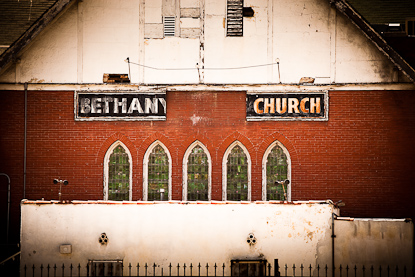 My good friend Naomi recently moved in with her boyfriend near Hoover and Vernon.  They'd been bugging me to visit for months, but most of the times I'd come to town I was either working on a job, or if I was around on a social visit, I wouldn't rent a car, preferring to stay in a bubble near the beach where I could walk or bike to visit my friends.
This trip though, I decided to change that. Â Besides my previously stated goal of doing something entirely different, it was very close to the downtown core where Union Station is.
South Central actually has lots of really amazing Craftsman-style architecture, which spent decades disappearing from LA: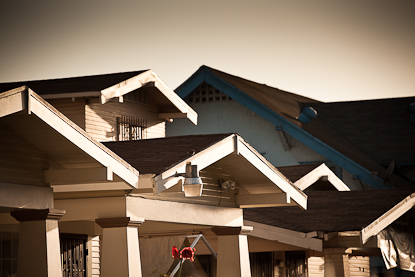 Before I even got there, Naomi and Dismost, her boyfriend, told all of their friends that I would be in town and would take pictures of their bike gang. Â Not only did I have no idea what to expect, but I'd been hyped up to such a point that I was worried that I wouldn't be able to live up to their expectations. Â They had planned a whole DAY dedicated exclusively to taking photos. Â Yet, somehow I knew that this was going to be something special.
Dis and his friends like building bicycles. Â This isn't a stretch from the majority of my LA (or even San Francisco) friends, and on most of my LA trips I'll spend my downtime hanging out at the Bikerowave. Â I don't even bring my bike with me to LA that often, but I can always count on seeing friends there, so it's become my default LA hangout.
Yet the bikes they build aren't your average trick fixie or tall bike (or really tall bike). Â These are low-rider bikes.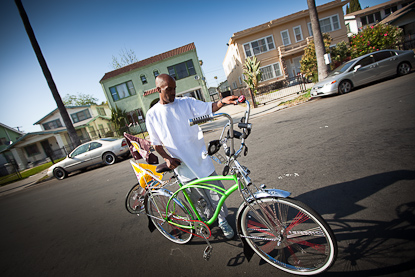 They have hundreds of spokes, the paint and chrome are immaculate, and, oh, the front wheel can flip down: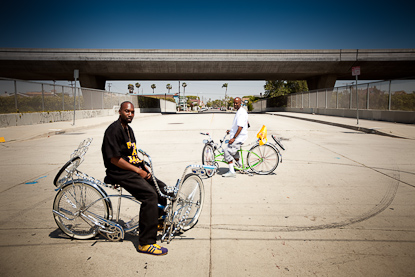 They also often have an impracticable spare tire in the back: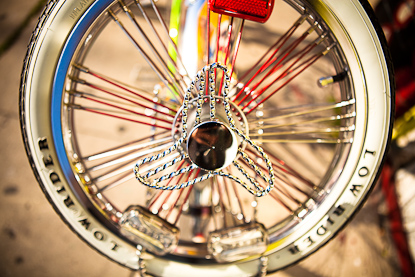 There is a whole crew of people who build and ride and show off these low-riderbikes.
They are the Real Rydaz:
South Central is a place that has a reputation for being a dangerous place to be during broad daylight, and my new friends kept trying to reinforce that idea the entire time I was there by sharing stories about the kinds of stuff that goes on in their neighborhood. Â Yet, I met far friendlier people here than I've ever met in the Bay Area suburbs.
But you don't get opportunities to take photos like this in the suburbs: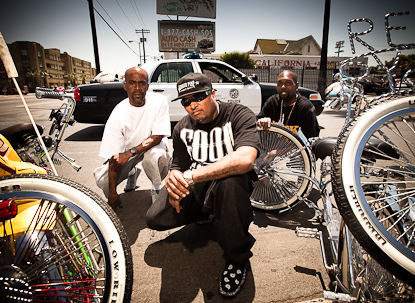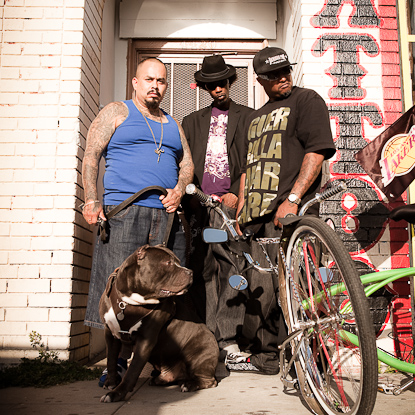 The gentleman on the left is JR. Â JR owns and operates a local tattoo parlor. Â If I saw JR walking down the street, I wouldn't ever ask if I could take his portrait. Â I might not even look him in the eye. Â Yet, check out his necklace: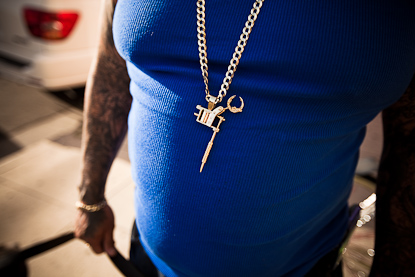 This is Kilo, JR's pit-bull puppy: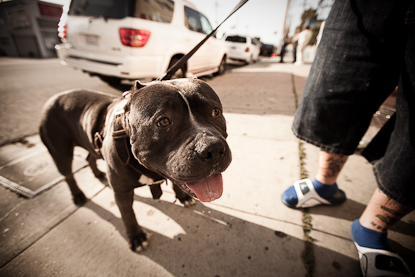 At some point during the picture taking, I decided it would be a good idea to shoot some video. Â Before I knew it, I was directing a music video for a rap song Dis wrote about the Real Rydaz.
This is Dis and his collaborator Ric-Hard, in one of the set-ups for the video: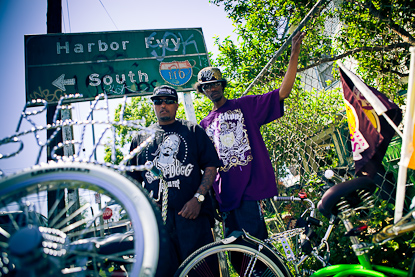 This is Ric:
Ric also has an amazing and unique sense of fashion. Â It's totally out there, but he's definitely on to something. Check out this hat:
After we wrapped shooting video, I took some more photos as the sun went down: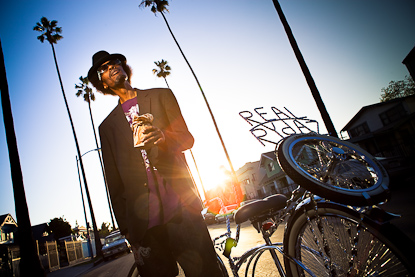 This is Skii Starr (pronounced "Sky Star"):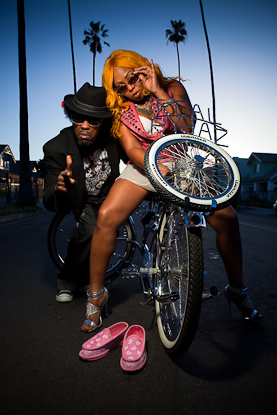 At the end of the day, I had a real respect for how massive Los Angeles is. Â I'm pretty familiar with the bicycle culture in Los Angeles. Â I know, personally, the people you've heard about who rode their bikes on the freeway. Â I know the people who will be responsible for creating the future of bicycle infrastructure in Los Angeles. Â But yet I had no idea that this fervent and amazing subculture of a subculture in a city very much not known for bicycling ever existed before today.
Wow.
I'm off to edit a rap video.