Venice, Louisiana
My last day in New Orleans was a bit of a misadventure. Â The plan was to head down to Venice, Louisiana and try to shoot something relating to the oil spill. Â I had lofty ambitions of talking my way onto a cleanup vessel for a couple of hours, but I figured I'd settle to just see what the situation was like on the ground firsthand.
Josh borrowed a car from his co-worker John, and we headed down the Mississippi river toward Venice.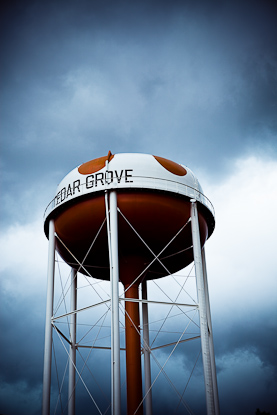 This is what Highway 23 looks like most of the way: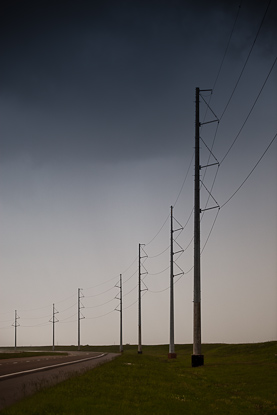 On the way downriver, the clouds were heavy and we often encountered rain. Â We made a few mental notes of places to stop and shoot on the way back during blue hour, or after nightfall when the grey skies would add to the aesthetic of the photo instead of detract.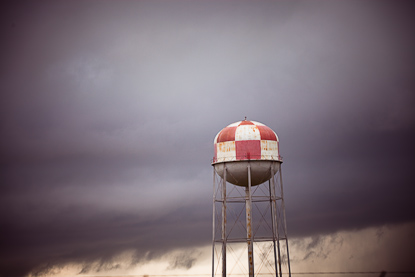 There are large levies on either side of the highway, so it's impossible to see anything on either side. Â We pulled over a couple of times when a road led to the left or right over one of the levies, but mostly we just came up to gates that looked like this: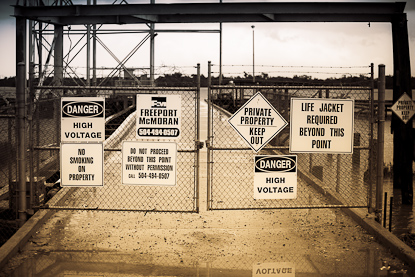 These docks abut virgin wetland: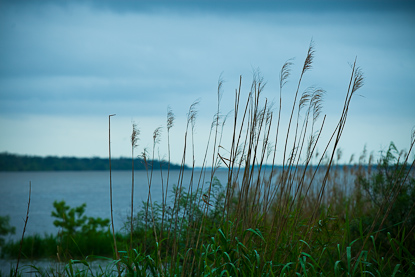 A little over an hour into our drive, Josh pulled over.
"What's wrong?" I asked.
"I lost power all of a sudden".
Turning the ignition did nothing. Â The car would not start. Â Everything seemed normal… Â we'd just put gas in it, so we weren't out of that. Â The oil level was normal. We ran through all of the possibilities, but nothing added up.
We were stopped relatively close to a service station, so I walked over to ask the mechanic if he'd take a look. Â There was a pickup truck from the United States Environmental Service getting an oil change.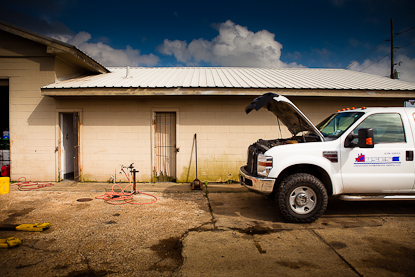 The driver had a "Haz-Mat Response Team" emblem on his t-shirt shoulder. Â I asked him what he was doing. Â "Cleaning up the oil spill", he responded. Â I tried to press him for more details, but he wasn't in a talkative mood. Â He had come down from Houston and didn't seem too thrilled with being in Louisiana.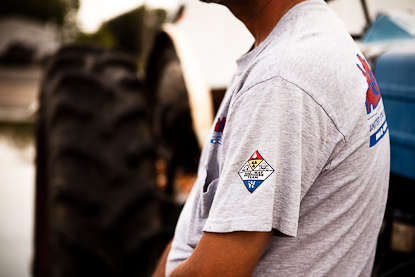 I had to wait awhile… Â there was one mechanic at the service station, two other people waiting with various car maintenance issues, and he wasn't in much of a hurry. Â I wandered around a bit… Â not far from the station was a washed up boat. Â A field seemed like a strange place for a boat, but I wasn't sure if it was being stored or abandoned there, or if it was left there by Katrina. Â There was nobody around to ask.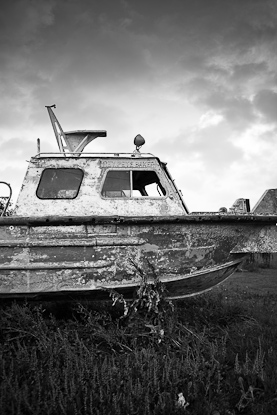 Finally, the mechanic walked over to take a look at the car.  He tried a bunch of things, plugged in and unplugged some wires, but shrugged and gave up.  He didn't have the tools or diagnostic equipment or expertise to work on a Mitsubishi.
We called a tow truck.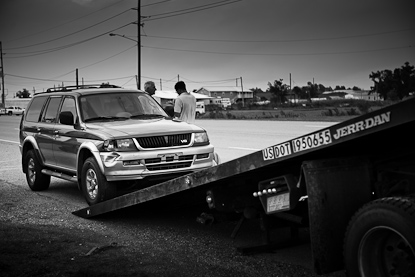 Josh is not thrilled. Â I had already contributed a full tank of gas to this adventure but I felt obligated to pitch in another $50 for the tow.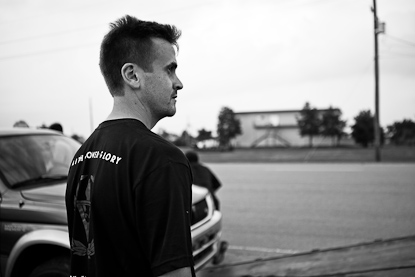 There is Venice, just ahead where the oil tanks are: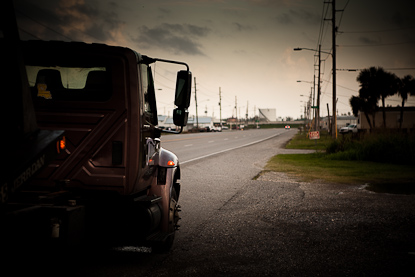 So close, yet, so far:
On the way back, we passed some of the sights I had wanted to shoot. Â The timing was perfect, the rain was cleared, and there was a massive flame coming out of this oil refinery: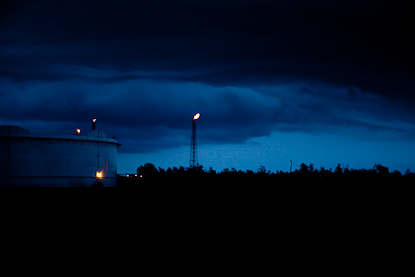 Nonetheless, the car was being towed back to New Orleans and so there wasn't a chance of pulling over to shoot.  I snapped these photos at a high ISO through the window, but it was the best I could do.