Just to set up the story a little bit: Â I moved out of my house near San Francisco's "famous" Haight-Ashbury district at the end of March, and recently put my deposit down on a new and amazing live-work spot in the Mission district which I'll be using as a photo studio. Â Problem is, I don't move into my new place until the beginning of June. Â So, I spent the month of April driving my lovely girlfriend Liz totally nuts by living at her place out in the east bay, so I bought some train tickets: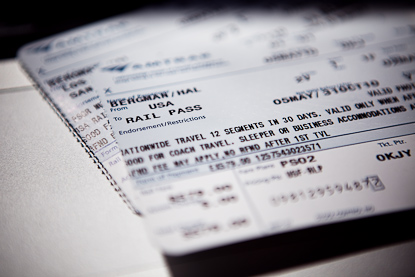 For $580, I can take twelve trains all over the country for a month. Â There is a little bit more to it than that… Â the restrictions come from the way Amtrak schedules trains and not from any fine print, but I'm sure I'll talk about that in another post.
Starting from Oakland, I'm taking a train down the coast (the Coast Starlight) to Los Angeles, stick around for a couple of days, and then board a train to San Antonio, Texas. Â I'm bumming a ride to Austin with my friend Nicole, where I'll spend the weekend, and then hopping on a train from Austin back to San Antonio on Monday evening, where I'll meet a train to New Orleans. Â I'll be in New Orleans for almost a week, and then I'm off to Washington, DC. Â From DC, it's New York City, Boston, Chicago, Detroit, back to Chicago, then all the way across the top of the country to Seattle, down to Portland, and finally, a leg back to Jack London Square in Oakland.
Hard time visualizing? I drew on one of Amtrak's rail maps with the brush tool in Photoshop: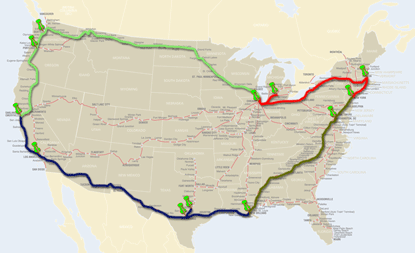 The colors roughly represent what week I'll be where, but I don't have seats booked after I get to New York City.
What's the goal of this project? Â I wish I had a deeper meaning thought out, but for the most part, it's because I can. Â I don't have to pay rent for the month, so I can afford to do this. Â I'm a full-time professional photographer, so I can justify it. Â Half the pins in that map I've never been to, and I'd like to fix that. Â I'm also preserving Liz's sanity so she can fervently watch the hockey playoffs without my constantly asking her what's happening.
At the end of the trip, I'll have a glut of images that I'll do a few things with. Â The more commercial images I'll submit to my stock agency, Getty Images, or Getty's microstock subsidiary, iStockPhoto, because ultimately they pay my rent and my bills. Â (Those links go to my portfolios on the respective sites for those curious) Â The more artistic and documentary images I'll save for a likely art show and/or book.
Everything else I'll figure out as I go along!